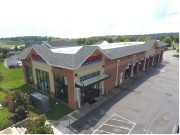 The Boulder Group, a net leased investment brokerage firm, has completed the sale of a single tenant net leased Merchant's Tire property located at 215 Hillcrest Parkway in Chesapeake, Virginia for $3,150,000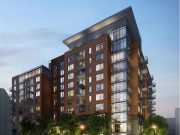 Kettler, one of greater Washington, D.C.'s leading real estate development and property management companies, announced today the opening of m.flats Crystal City, an 11-story, 198-unit, high-rise apartment building located in the Crystal City neighborhood of Arlington, Va
The Boulder Group, a net leased investment brokerage firm, has completed the sale of a single tenant ALDI ground lease located at 5811 High Street in Portsmouth, VA for $3,280,000
Third Avenue Investments, LLC won approval from the County Board on Saturday, July 18, for an amendment to a site plan originally approved in 2007 for a mixed-use building at 3001 Jefferson Davis Highway, Potomac Yard Land Bay D-West. The amendment will allow the developer to build a church in the 12-story residential building it plans, instead of much of the groundfloor retail approved in the original site plan.
American Realty Advisors, an institutional real estate investment manager with nearly $7 billion in assets under management, has acquired a 100 percent-leased Class A industrial portfolio totaling 453,883 square feet in Virginia
Lerner Enterprises, one of Washington, D.C.'s largest private real estate developers based in Rockville, Maryland, is pleased to announce that Capital One has signed a lease for 136,000 square feet at 1750 Tysons Boulevard in The Corporate Office Centre at Tysons II in Tysons, Virginia. Capital One anticipates opening their offices in late 2015 and will occupy six full floors in the 18-story Class 'A' office tower
Governor Bob McDonnell today announced $200,000 in funding for three collaborative efforts in Virginia through the Building Collaborative Communities program. The program promotes regional economic collaboration in economically-distressed areas that stimulate job creation, economic development and provide a significant return on state investment.
WASHINGTON, D.C. - July 19, 2013 - (RealEstateRama) -- Congressman Robert Hurt (R-Virginia) released the below statement following the Financial Services Committee hearing examining the Protecting American Taxpayers And Homeowners Act, a legislative proposal to create a sustainable housing system
Reston, VA - April 17, 2012 - (RealEstateRama) -- Calkain Urban Investment Advisors recently completed the sale of a four-tenant, retail investment property in Washington, DC. The purchaser was a private investor/developer seeking an income-producing asset with a strong upside. The property, WY18, is a charming residential condominium in the heart of Adams Morgan. Adams Morgan, one of the District's most diverse neighborhoods, has streets ripe with multicultural eateries, eclectic shops and vibrant, charismatic nightlife.
Reston, VA - April 9, 2012 - (RealEstateRama) -- Calkain Companies, a national commercial real estate investment brokerage firm facilitated a sale leaseback transaction of Firehouse Subs in Pinellas Park, FL in the Tampa/Clearwater MSA. The purchaser was a private South Florida investor seeking a passive, incoming-producing asset to complete a 1031 exchange.