RealEstateRama
Loudoun Homeowners Featured on WJLA-TV's Home Energy Makeover
Loudoun Homeowners Featured on WJLA-TV's Home Energy Makeover
Leesburg, VA – September 15, 2010 – (RealEstateRama) — An Ashburn family and their home are being featured on newscasts and other programs on WJLA-TV (ABC 7) throughout September as part of the National Capital Home Energy Makeover Contest.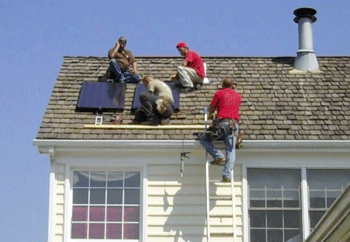 The Lockett family was one of three winners chosen from nearly 3,000 entrants in the regional contest sponsored in part by Loudoun County and WJLA-TV. The goal of the contest was to show how energy-efficient home improvements can save homeowners money and improve the overall comfort of their homes. The Locketts won a free home energy makeover worth up to $10,000, which included the installation of solar panels at their home on Brookton Way. 
Loudoun County is involved in a wide range of efforts to reduce the county government's energy consumption, improve energy efficiency and raise awareness about energy conservation. The county is also a partner in the Green Business Challenge, which is accepting entries through September 30, 2010. More information about the Green Business Challenge and other energy efficiency and conservation efforts is online at www.loudoun.gov/energy. 
# # #
Contact: Robin Geiger, Community Relations Manager, 703-771-5511