The Virginia residential real estate market continued year-overyear and long term improvement according to the Third Quarter 2016 Home Sales Report released by the Virginia Association of REALTORS® (VAR). Both the total number of sales and the value of transactions rose from the same period last year, to 32,949 units and $10.821 billion, respectively
The City of Alexandria has mailed bills for the second half 2016 real estate tax and refuse fee to all property owners and/or mortgage companies. The 2016 real estate tax rate is $1.073 per $100 of assessed value, and the annual refuse fee is $363
The following analysis of the Fredericksburg, Virginia area housing market has been prepared by the Fredericksburg Area Association of REALTORS® based on analysis of MRIS multiple listing data provided through RealEstate Business Intelligence, LLC (RBI).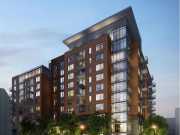 Kettler, one of greater Washington, D.C.'s leading real estate development and property management companies, announced today the opening of m.flats Crystal City, an 11-story, 198-unit, high-rise apartment building located in the Crystal City neighborhood of Arlington, Va
October is Affordable Housing Month in Arlington, a month-long celebration of the County's long-term commitment to preserving and creating housing opportunities that benefit the whole community
August sales soar on year, rebound from restrained July RICHMOND, Va. (September 26, 2016) – According to the August 2016 Home Sales Report released by...
The Arlington County Board today moved to preserve 68 affordable apartments in the Westover neighborhood, approving a $10.9 million Affordable Housing Investment Fund allocation to the non-profit Arlington Partnership for Affordable Housing (APAH). The loan and associated documents will be considered by the Board in December
Claire Forcier-Rowe, Manager of Long & Foster Real Estate's Hanover and Bay/River offices, has been elected to serve as 2017 President of the Virginia Association of REALTORS® (VAR). Claire will succeed Bill White as the elected leader of VAR, which is the largest trade association in the state of Virginia with more than 32,000 members. Forcier-Rowe will assume her new VAR post in November 2016.
The Virginia Association of REALTORS® celebrates its 2016 Award recipients. VAR conducted its annual awards ceremony in conjunction with the 2016 Annual Convention on Tuesday, September 20, at the Gaylord Resort at National Harbor. The ceremony celebrates excellence in various areas of real estate including property management, brokerage, and other business achievements along with notable community contribution.
The Arlington County Board will act on dozens of items at its September Regular County Board Meeting, Saturday, Sept. 24 and Tuesday, Sept. 27. Visit the County website for procedures for speaking at a Board Meeting. County Board meetings are open to the public and broadcast live on Comcast 25 and Verizon 40 and webstreamed on ATV.